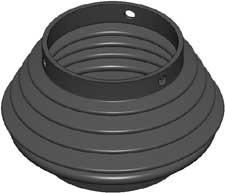 FLEXALON 6250 Stopbuspakking
Lieferzeit: 3-4 Wochen
(Prijs voor een minimale hoeveelheid van 2)
FLEXALON 6250 Rotary pump packing
New from Merkel Freudenberg!  
FLEXALON is ideal for general use in paper mills, as well as in food, chemical and sewage treatment plants. Suitable applications include rotary pumps, mixers, kneaders and refiners.
FLEXALON is made from a white elastic synthetic fibre on a meta-aramid base. This means that, unlike PTFE fibre packings, FLEXALON offers high wear resistance against abrasive media. And compared with some conventional para-aramid fibre packings, it will not damage shaft surfaces.
Leakage is minimised thanks to its high density and structural integrity. The silicon-free lubricant ensures FLEXALON a smooth running performance.  Moreover its white appearance means there is no risk of colour contamination of media!
A highly wear-resistant DIAPLEX® braided packing made from a white elastic synthetic fibre, with a silicon-free running-in lubricant.
The materials are approved for use in food processing industries (MPA Stuttgart, Germany)
Application Limits
| | | |
| --- | --- | --- |
| P           |  25 bar                         |  362 psi                           |
| T | -50..+250(C | -58..+482(F |
| V | 25 m/s | 5000 ft/min |
| pH | 1..13 | 1..13 |

Media
Hot and cold water, salt solutions, organic solvents, hydrocarbons, oils, greases, diluted acids and alkalies, steam up to 180°C.
| | |
| --- | --- |
| Strong and smooth yarn                         | Extrusion resistant and easy on shaft             |
| Good elasticity | Low maintenance |
| High cross-sectional density | Low leakage performance |
Also available in die-formed rings and pre-cut lengths
| | | | | | | |
| --- | --- | --- | --- | --- | --- | --- |
| mm | inch | G/m | M/kg | Kg/box | Reference no |  In stock  |
| 3 | 1/8 | 12 | 82.30 | 1 | 49007606 |   |
| 4 |   | 22 | 46.30 | 1 | 49007607 |   |
| 5 | 3/16 | 34 | 29.63 | 1 | 00533642 |   |
| 6 |   | 49 | 20.58 | 1 | 00533643 |   |
|   | ¼ | 54 | 18.37 | 1 | 49007608 |   |
| 8 | 5/16 | 86 | 11.57 | 2 | 00533644 |  |
|   | 3/8 | 121 | 8.29 | 2 | 49007623 |   |
| 10 | | 135 | 7.41 | 2 | 00533645 |  |
| 12 | | 194 | 5.14 | 3 | 00533646 |  |
| | ½ | 218 | 4.59 | 3 | 49007635 |   |
| 14 | 9/16 | 265 | 3.78 | 3 | 00533647 |   |
| 15 | | 304 | 3.29 | 3 |   |   |
| 16 | 5/8 | 346 | 2.89 | 3 | 00533648 |  |
| 18 | | 437 | 2.29 | 3 | 00533649 |   |
| 19 | ¾ | 487 | 2.05 | 3 | | |
| 20 |   | 540 | 1.85 | 5 | 00533650 |  |
| 22 | 7/8 | 653 | 1.53 | 5 | 49007633 |   |
| 25 | 1 | 844 | 1.19 | 10 | 00533651 |  |
Einsatz für Ventile

nein

Temp. min.

-50

Temp. max.

250

pH-Wert min.

pH 1

pH-Wert max.

pH 13