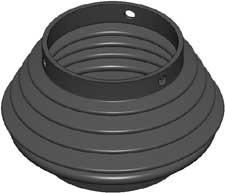 Carboflex 6587
Product available for orders
(Price for minimal quantity of 2)
Product description 
FST Carboflex behaves with good volume stability and almost universal chemical resistance. The low elongation coefficient, a small friction value and the ability to overcome the critical running-in phase prevents sudden, uncontrolled production of heat at high sliding speeds.
The impregnation selected to suit the carbon fibres as well as the specially selected lubricant benefits the running-in process. 
High speed pump packing
Application Limits
| | | |
| --- | --- | --- |
| P | 25 bar | 362 psi |
| T | .+300(C                 | +572(F |
| V | 25 m/s | 4900 ft/min                       |
| pH     | 0..14 | 0..14 |
Product advantages 
■Good chemical resistance ■Good heat dissipation ■Low friction. 
Media
Cold and hot water, steam, aqueous solutions, almost universally against acids, and lyes.
Exceptions: strongly oxidizing salt solutions, concentrated sulphuric and nitric acid.

CARBOFLEX is characterised by volumetric stability and a high level of chemical resistance. The low coefficient of expansion, low friction and the ability to ease the critical running-in phase prevent sudden, uncontrolled build-up of heat at high operating speeds. The impregnation as well as the special lubricant is adapted for carbon fibres and assist running in.
 
High purity carbon yarn ensures excellent 

heat dissipation   

Suitable for very high speed rotary applications

Low coefficient of friction

Prevents sudden heat build up during run-in phase     

Excellent thermal conductivity

Can often run without lantern flush, 

reducing water costs
| | | | | | | |
| --- | --- | --- | --- | --- | --- | --- |
| mm | inch | G/m | M/kg | Kg/box | Reference no | In stock |
| 6 |   | 49 | 20.6 | 1 | 529376 |   |
| 8 | 5/16 | 86 | 11.6 | 2 | 24149151 |   |
|   | 3/8 | 122 | 8.2 | 2 | 24149869 |   |
| 10 |   | 135 | 7.4 | 2 | 24182525 |   |
| 12 |   | 194 | 5.1 | 3 | 24182526 |   |
|   | ½ | 218 | 4.6 | 3 | 24183632 |   |
| 14 | 9/16 | 265 | 3.8 | 3 | 24188842 |   |
| 15 |   | 304 | 3.3 | 3 | 24195271 |   |
| 16 | 5/8 | 346 | 2.9 | 3 | 24195272 |   |
| 18 |   | 437 | 2.3 | 3 | 24195295 |   |
| 19 | ¾ | 487 | 2.1 | 3 | 24367033 |   |
| 20 |   | 540 | 1.9 | 5 | 49003560 |   |
| 25 | 1 | 844 | 1.2 | 10 | 70200207 |   |
Einsatz für Ventile

ja

Temp. max.

+40 °C
+66 °C
+70 °C
+80 °C
+121 °C
+200 °C
+260 °C
100
120
150
160
250
280
300

pH-Wert min.

pH 0

pH-Wert max.

pH 14