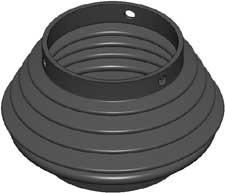 Merkel packing 6565
Product available for orders
(Price for minimal quantity of 2)
G - SPEZIAL S 6565 High performance service packing for pumps and valves
G-SPEZIAL S is braided from expanded pure graphite and is suitable for the use in pump and valve applications. It combines all the advantages of expanded graphite, such as high temperature stability and cross sectional density.
Rings from G-SPEZIAL S can be cut easily from a roll, thus ensuring a prompt repair service.
G - SPEZIAL S 6565 High performance service packing for pumps and valves
Application Limits
P        

 250 bar                           

 3625 psi                                     

T

-200°..+450° C 1

-200°..+650° C 1

 -328°..+842°F 1

 -328°..+1202° F 2

V

 25 m/s

 4900 ft/min

pH

 0...14

 0...14
1 most media and air               
2 steam (At maximum temperatures reduction of service life possible)
Media
Hot water, steam, gases, oils, acids and alkalis.
Exceptions
strongly oxidising acids such as sulphuric acid and nitric acid in high concentrations.
Pure expanded graphite 

 Very high temperature and chemical resistance  

Dense and resilient                             

 

Excellent sealing effect and constant 

elasticity

Wide variety of moulds available

 Fast delivery without mould changes
Also available in pre-cut lengths 
| | | | | | | |
| --- | --- | --- | --- | --- | --- | --- |
| mm | inch | G/m | M/kg | Kg/box | Reference no |  In stock   |
| 4 |   | 18 | 54.35 | 1 | 00527400 |   |
| 5 | 3/16  | 29 | 34.78 | 1 | 49001846 | * |
| 6 |   | 41 | 24.15 | 2 | 00527397 | *  |
| 8 | 5/16 | 74 | 13.59 | 2 | 00527398 | *  |
| 10 |   | 115 | 8.70 | 2 | 00527399 | *  |
| 12 |   | 166 | 6.04 | 3 | 00527640 | *  |
|   | ½  | 185 | 5.39 | 3 | 00529143 |   |
| 14 | 9/16  | 225 | 4.44 | 3 | 00527641 | * |
| 15 |   | 259 | 3.86 | 3 | 00528454 | * |
| 16 | 5/8  | 294 | 3.40 | 3 | 00527642 | *  |
| 18 |   | 373 | 2.68 | 3 | 00527643 |   |
| 20 |   | 460 | 2.17 | 5 | 00527644 | * |
Einsatz für Ventile

ja

Temp. min.

-200

Temp. max.

550

pH-Wert min.

pH 0

pH-Wert max.

pH 14