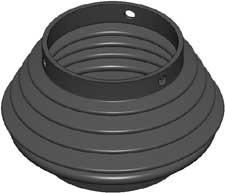 Alchem 6375 Stopbuspakking
Laatste items in voorraad
(Prijs voor een minimale hoeveelheid van 2)
ALCHEM 6375 Universal chemical valve packings.
ALCHEM is manufactured from pure PTFE yarn with an additional PTFE impregnation, ensuring excellent chemical resistance. Its high density and tight braid structure ensure very low leakage performance. The packing has a high degree of form stability and a low compressibility which makes it also suitable for plunger pump applications.
ALCHEM ST material is approved for use in food, drinking water and oxygen applications.
Application Limits

P
500 bar 
250 bar *
7250 psi 
3625 psi *
T         

-200..+280(C              

-328..+536(F                  

V

2 m/s

400 ft/min

pH

0..14

0..14
* Installation with end rings

Media:




All chemicals including concentrated hot acids and lyes. 
(Exceptions: molten alkali metals, fluorine and some fluorine compounds).
Note: This packing is certified by the Fraunhofer-Institute for process engineering and packaging as suitable for use in food processing machinery according to FDA US 21 CFR 170.3 (i) and to article 3 of the EU directive 1935/2004.
| | |
| --- | --- |
| Particularly tight braid and dense structure |   Very low leakage rates                         |
| High degree of form stability and compressibility |   Very low setting rates |
|  Low soluble chloride content |   Suitable for nuclear applications |
|  White colour |   No risk of colour contamination |
Also available in dieformed rings and pre-cut lengths
| | | | | | | |
| --- | --- | --- | --- | --- | --- | --- |
| mm | inch | G/m | M/kg | kg/Box | Reference no |  In Stock  |
| 3 | 1/8 | 16 | 63.5 | 1 | 24107749 |   |
| 4 | | 28 | 35.7 | 1 | 24107750 | * |
| 5 | 3/16 | 44 | 22.9 | 1 | 24107751 | * |
| 6 |   | 63 | 15.9 | 1 | 24107752 | * |
|   | ¼ | 72 | 14.0 | 1 | 24115712 | |
| 8 | 5/16 | 112 | 8.9 | 2 | 24107753 | * |
| | 3/8 | 159 | 6.3 | 2 | 24117570 | |
| 10 | | 175 | 5.7 | 2 | 24107754 | * |
| 12 | | 252 | 4.0 | 3 | 24107755 | * |
| | ½ | 282 | 3.5 | 3 | 24107756 | * |
| 14 | 9/16 | 343 | 2.9 | 3 | 24116248 | * |
| 15 | | 394 | 2.5 | 3 | 24116340 |   |
| 16 | 5/8 | 448 | 2.2 | 3 | 24107757 | * |
| 18 | | 567 | 1.8 | 3 | 24117869 |   |
| 19 | ¾ | 632 | 1.6 | 3 | 24192581 |   |
| 20 | | 700 | 1.4 | 5 | 24115579 | * |
| 22 | 7/8 | 847 | 1.2 | 5 | 24115580 |   |
| 25 | 1 | 1094 | 0.9 | 10 | 24121883 | * |
Einsatz für Ventile

ja
nein

Temp. min.


-10
-18 °C
-20 °C
-30
-40
-46 °C
-50
-60
-100
-200
107

Temp. max.

+40 °C
+50 °C
+66 °C
+70 °C
+80 °C
+121 °C
+200 °C
+260 °C
+316 °C
100
120
150
160
160
250
280
300

pH-Wert min.

pH 0

pH-Wert max.

pH 14