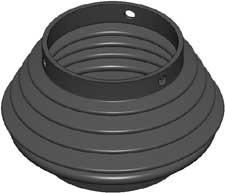 Grafolan 6575 Stopbuspakking
Lieferzeit: 3-4 Wochen
(Prijs voor een minimale hoeveelheid van 2)
Product description 
Merkel Grafolan consists of graphite yarn which is created through an energy-intensive thermal transformation process. It features high chemical resistance and temperature stability. An added lubricant ensures good running-in behaviour at all speeds.
Merkel Grafolan is used in many areas of chemistry – in pumps, agitators and paddle dryers – as well as in feed water pumps for energy production. Compression-moulded rings from Merkel Grafolan 6576 (without additional lubricant) are supplied.
High temperature pump packing
Application Limits
P
300 bar 1
320 bar 2
362 psi 1
4640 psi 2
T

.+300(C                               

+572(F                                      

V
25 m/s 1
4900 ft/min 1
pH   

0..14

0..14
1 Rotary pumps   2 Valves
Media
Universally applicable against acids, alkalis, hydrocarbons, boiler feed water, gases, steam etc.
Exception: strongly oxidizing brines, concentrated sulphuric acid, nitric acid.

GRAFOLAN is made from graphite yarn, which is obtained from carbon fibres subjected to an intensive thermal conversion process. This packing has excellent chemical stability and high temperature resistance. A lubricant additive ensures smooth running in at all speeds.
GRAFOLAN is applied in pumps, agitators and blade dryers in various branches of the chemical industry.
| | |
| --- | --- |
| Very high temperature resistance | Ideal for very high temperature dynamic applications |
| Excellent chemical stability | Suitable for a wide range of dynamic applications |
| Graphite impregnation throughout packing     | Prevents overheating and closes any possible leakage paths.   |
mm
inch
G/m
M/kg
Kg/box
Reference no
In stock

4


 

21

48.1

1

24119697


 

5

3/16

33

30.8

1

24116375


 

6


 

47

21.4

1

24107758


 

 

¼

52

19.1

1

24315127


 

8

5/16

83

12.0

2

24107759


 

10


 

130

7.7

2

24107760


 

12


 

187

5.3

3

24107761


 

 

½

210

4.8

3

24121864


 

14

9/16

255

3.9

3

24128908


 

15


 

293

3.4

3

24123425


 

16

5/8

333

3.0

3

24107762


 

18


 

421

2.4

3

24132365


 

19

¾

469

2.1

3

24120309


 

20


 

520

1.9

5

24107763


 

22

7/8

629

1.6

5

24126630


 

25

1

813

1.2

10

24149515
Einsatz für Ventile

ja
nein
statisch

Temp. max.

+40 °C
+80 °C
+121 °C
+200 °C
+260 °C
100
120
150
160
250
280
300

pH-Wert min.

pH 0

pH-Wert max.

pH 14