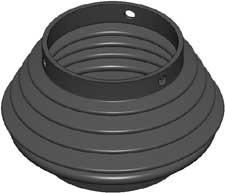 Carbosteam 6550
Product available for orders
(Price for minimal quantity of 10)
CARBOSTEAM 6550 High temperature valve packing
CARBOSTEAM is made of flexible carbon yarns and a special graphite-based impregnation. Thanks to its excellent thermal stability CARBOSTEAM is widely used in high temperature steam applications.
Because of its high pressure and extrusion resistance CARBOSTEAM is ideally used as end rings for GRAFIFLEX.
CARBOSTEAM 6550  High temperature valve packing
Application Limits
P        

 300 bar                           

 4350 psi                                     

T

30°..+400°  C 1

-30°..+550°  C 2

 

-22°..+750°F 

1

-30°..+1022° F 2

pH

 0...14

 0...14
1 most media and air               2  steam
Media


Hot Water, hot air, steam, acids and alkalies.

Exceptions 
Heavily oxidizing acids such as hot sulphuric acid and nitric acid.
| | |
| --- | --- |
|  Thermally stable carbon yarn and impregnation               |  Very high temperature resistance                                                   |
|  High graphite content in impregnation |  Reduced friction, longer service life |
|  High strength carbon yarns |  Used as anti-extrusion and wiper end rings with GRAFIFLEX or G-SPEZIAL |
Also available in pre-cut lengths 
| | | | | | | |
| --- | --- | --- | --- | --- | --- | --- |
| mm | inch | G/m | M/kg | Kg/box | Reference no |  In stock   |
| 3 | 1/8 | 10 | 101.01 | 1 | 24199354 |   |
| 4 |   | 18 | 56.82 | 1 | 24196161 |   |
| 5 | 3/16 | 28 | 36.36 | 1 | 24191670 |   |
| 6 |   | 40 | 25.25 | 1 | 24196568 |   |
|   | ¼ | 45 | 22.2 | 1 | 24199357 |   |
| 8 | 5/16 | 70 | 14.20 | 2 | 24191671 | * |
|   | 3/8 | 89 | 11.22 | 2 | 24199361 |   |
| 10 |   | 110 | 9.09 | 2 | 24191672 | * |
| 12 |   | 158 | 6.31 | 3 | 24190391 | * |
|   | ½ | 177 | 5.60 | 3 | 24199363 |   |
| 14 | 9/16 | 216 | 4.64 | 3 | 24197176 |   |
| 15 |   | 248 | 4.04 | 3 | 24216138 |   |
| 16 | 5/8 | 282 | 3.55 | 3 | 24195492 | * |
| 18 |   | 356 | 2.81 | 3 | 24199366 |   |
| 19 | ¾ | 397 | 2.52 | 3 | 24315375 |   |
| 20 |   | 440 | 2.27 | 5 | 24199368 |   |
| 22 | 7/8 | 532 | 1.92 | 5 | 24290307 |   |
| 25 | 1 | 688 | 1.45 | 10 | 24199373 |   |
Einsatz für Ventile

ja

Temp. min.

-30

Temp. max.

550

pH-Wert min.

pH 0

pH-Wert max.

pH 14